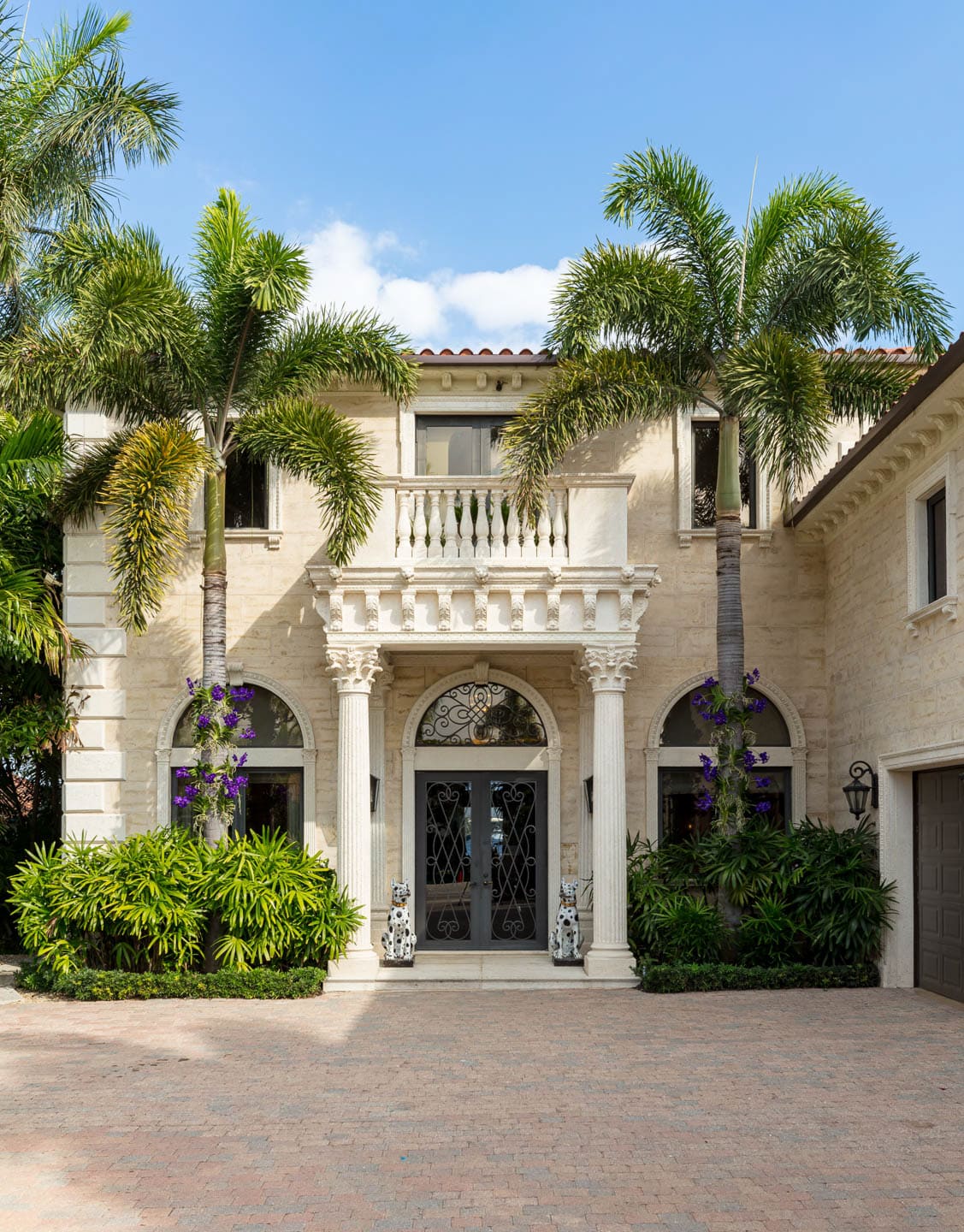 The Kips Bay Decorator Show House Palm Beach maintains a reputation of being one of the most prestigious show houses and charitable efforts in the design world. Primestones had the pleasure of being one of the sponsors for the second year at the show house's first water-front location, a luxurious representation of the elegance that is Palm Beach.
We collaborated with 8 designers – Lindley Arthur, Honey Collins, Errez Design, David Frazier, Megan Grehl, Mabley Handler and Katherine Shenaman. Each designer showcased not only their individual design philosophies, but also thought outside the box for non-traditional uses of various design elements. Here we take a deeper look into each designer's thought process and the unique and impressionable ways they used stone for their space.
'Pristine Providence' describes this space well as Dallas based designer Lindley Arthur derived inspiration from Lyford's Cay Club in the Bahamas as well as the notorious Palm Beach aesthetic for her classic and retreat-like powder room. "We wanted the room to be a representation of our design aesthetic, which is classic, timeless interiors that have a blend of old and new."
Lindley used Mystery White Marble, a soft cream and white stone as the vanity and integrated sink. The neutral color of the stone blends seamlessly with its surroundings transforming this powder room into a fresh and whimsical space, accented with a mix of old and new detailed pieces. "I have never in all of my years doing construction been to a showroom that had such a beautiful selection of beautiful stone."
A key quality of natural stone is its versatility. Honey Collins executed a warm and inviting atmosphere on her open balcony, encapsulating antique finds with the surrounding Palm Beach views to perfectly portray her philosophy of ensuring that the lifestyle of her clients are always incorporated into her design. Ceppo Grey Marble with its amalgamation of grays, black and white, sits prominently as the coffee table, a non-traditional yet impressionable use of natural stone.
"I definitely wanted a different texture in the sitting space. And so I had seen this marble on another piece before, and I had loved the color and that sort of organic design that it has. So it has less of this and more of like almost bubbles, which I love. And so I think it gave a little more modern feel to the room and also masculine feel."
Natural stones ability to create an impactful piece regardless of the size is undeniable. Known for her ability to create a mix of contemporary elements with classic design, New York based designer Lucy Doswell added the jewel of a stone Calacatta Viola Marble as an end table in her library.
"The stone was a way for us to bring in a more contemporary element to the room coupled by our more wood and antique furniture that we have placed throughout. We selected a Calacatta Viola stone. We have aubergine colors throughout the room, and it sort of brought that out and made our fabrics pop." A timeless and classic stone for a timeless and classic space where new and old pieces reside in harmony. The marble end table beautifully complements its neighboring coffee table which actually belonged to the designer's grandmother.
The dynamic duo; Katie and Ruben Gutierrez of Errez Design incorporated biographical design where they sought inspiration from Henry Flagler in a more modern tone. A cohesive burst of exuberance and entrancing color palette is seen from stairway to morning bar where you'll find Rosso Venato Dolomite and it's white backdrop and deep red veins adorning the countertop with a waterfall feature to further boost its dramatic veining as well as a shelf atop.
"So it was so important that every single element in this room worked in concert with the overall concept that we had. And what we loved about working with Primestones is that there were so many options that we were able to get the exact one that fit exactly what we were looking for. So when we selected the Rosso Veneto Select Dolomite, what we found was that it had this white bright background to it and had the veining in the colors that were exactly perfect to fit in concert with the whole of the space."
Designer David Frazier is well known for his ability to emphasize a warm modern approach to his designs. David's chicly outfitted laundry and powder room at the show house incorporates a mix of well curated patterns, textures and layers as well as a nod to the Palm Beach style. Soapstone Grigio adds a refined touch to the laundry room counter with its dark green and grey hues. "It doesn't feel like a stone that you would see in a utilitarian space. It feels really special and elevates the room."
Calacatta Viola Marbles deep red veining embellishes the shower floor and vanity counter of the powder room.
"The Calacatta Viola marble that we selected for the bathroom is a really beautiful white marble with a cabernet red veining. And one of the things that we carried from that selection of stone was we picked up throughout our space subtle hints of that beautiful red. So that was really kind of a catalyst for our design, for all of our spaces."
Megan Grehl's bedroom and en suite bath features Oyster White Marble as its luminous and show stopping natural stone. A sense of serenity and tranquility comparable to that of a relaxing spa can be felt throughout the space where you'll see Megan's culmination of inspiration taken from nature itself elegantly displayed. "Being in Palm Beach, we really wanted to reference the ocean, but not your typical sort of more traditional ways of expressing the ocean, like via seashells or marine life. We really wanted to hone in on that via showing the rawness of the materials. So if you think about your experience in the ocean, you might think about sand or waves. And these are all inspirations for our room: the undulating curtains, the softness of the curtains, trying to emulate the ripple effect of the ocean."
"The bed is like really raw, this really raw natural material, the oyster white select marble. And that's supposed to really sort of highlight all the beautiful materials that you can find by the seaside as they wash up over time."
The backlight added to the Oyster White Marble bed frame as well as the vanity countertop effortlessly illuminates nature's handiwork, enhancing the soft grays and cream patterns flowing throughout.
A tropical and entrancing experience of colors, patterns and overall beauty is seen and felt in Mabley Handler's space appropriately titled 'Welcome to the Jungle'. You'll find Calacatta Viola Porcelain demands your attention as it smoothly flows throughout, enveloping the space like a waterfall positioned perfectly at the center of the jungle.
"We wanted this stone to be the feature of the space. So it grounded the whole bathroom. And then from there, we also have, you know, extremely busy wallpaper and lots of interesting lighting, but the stone really grounds the room and that's why we wanted to run it all the way through in a waterfall effect."
Notably, the deep plum pattern and veining in this engineered porcelain attempts to replicate that of its counterpart natural stone. An alternative for those that may prefer the engineered surface route.
Palm Beach based designer Katherine Shenaman successfully marries modern, eclectic and vintage design eloquently for the morning bar of the entrance vestibule. The waves and aquatic theme of the wallpaper blend with the ripples of the ivory and caramel colored Tuscany Avorio Marble situated as the focal point of the morning bar.
"When I went to visit Primestones, I knew the stone yard immediately. I've worked with you guys for a number of years and you do beautiful work. I wanted something that complimented the waves but didn't distract from them because if I picked anything too bold, I think it would take away. We already knew that we were doing the stained walnut for the bar and the cabinetry, so we wanted something that was harmonious with the waves, but not overwhelming. So this piece of marble has beautiful ivories and not whites, but they're ivories and creams. And then there's almost a caramel color that runs through it that's really elegant."